Traces and Impressions
2009
Lullin+Ferrari, Zurich
29 August – 17 October 2009
Group Exhibition: Anna Amadio, Franziska Furter, Edit Oderbolz
Anna Amadio has created three large works on paper for the exhibition. Anna Amadio uses a signature technique developed in 2003, and applied thereafter in three subsequent series of drawings. Initially, the artist constructs a template on paper using master images from her rich photographic archive, ... more
Image Gallery
+
Traces and Impressions
2009
Lullin+Ferrari, Zurich
29 August – 17 October 2009
Group Exhibition: Anna Amadio, Franziska Furter, Edit Oderbolz
Anna Amadio has created three large works on paper for the exhibition. Anna Amadio uses a signature technique developed in 2003, and applied thereafter in three subsequent series of drawings. Initially, the artist constructs a template on paper using master images from her rich photographic archive, and a textural base of hardened wood glue. She covers this matrix, after the glue has hardened, with a second sheet of paper. Drawing on this top sheet of paper with coloured crayons, the elevated areas and lines of glue emerge as a frottage. The depiction of the original master image in these constructions nearly vanishes through the strong gestures of drawing marks, and is only seen as a trace.
This approach allows Anna Amadio to depict various and multilayered information on the paper. The artist achieves parallel lines through a rake holding many coloured crayons. The vibrant colours and the rthythm of these images capture the energy of Anna Amadio at work: through the energy of these lines, the viewer can not only distinguish the schematic subject matter of the drawing, but also trace the artist's physical movements in her work process. In all three drawings a masked figure appears in striped clown underwear. This figure can be seen simultaneously as alter ego of the artist but also as her antagonist. In Sit and Wait a figure sits in a temple and looks towards the ceiling, cricking her legs in her striped costume.
In Speak the masked figure pulls herself up in front of a sculpture of Venus and seems to defy her. In Write the creature squats at a little desk and observes a woman writing. These narratives can only be identified in fractions, as Anna Amadio has drawn over the underlying subject matter so extensively that they become integrated seamlessly and equally in the structure of the drawing. The ornamental structures of the glue matrices are reinforced through the frottage technique and undermine the identification and decoding of the artist's motives, a conceptual approach designed by Anna Amadio to illuminate moments of chance.
Text Etienne Lullin
Photos Galerie Lullin+Ferrari, Zurich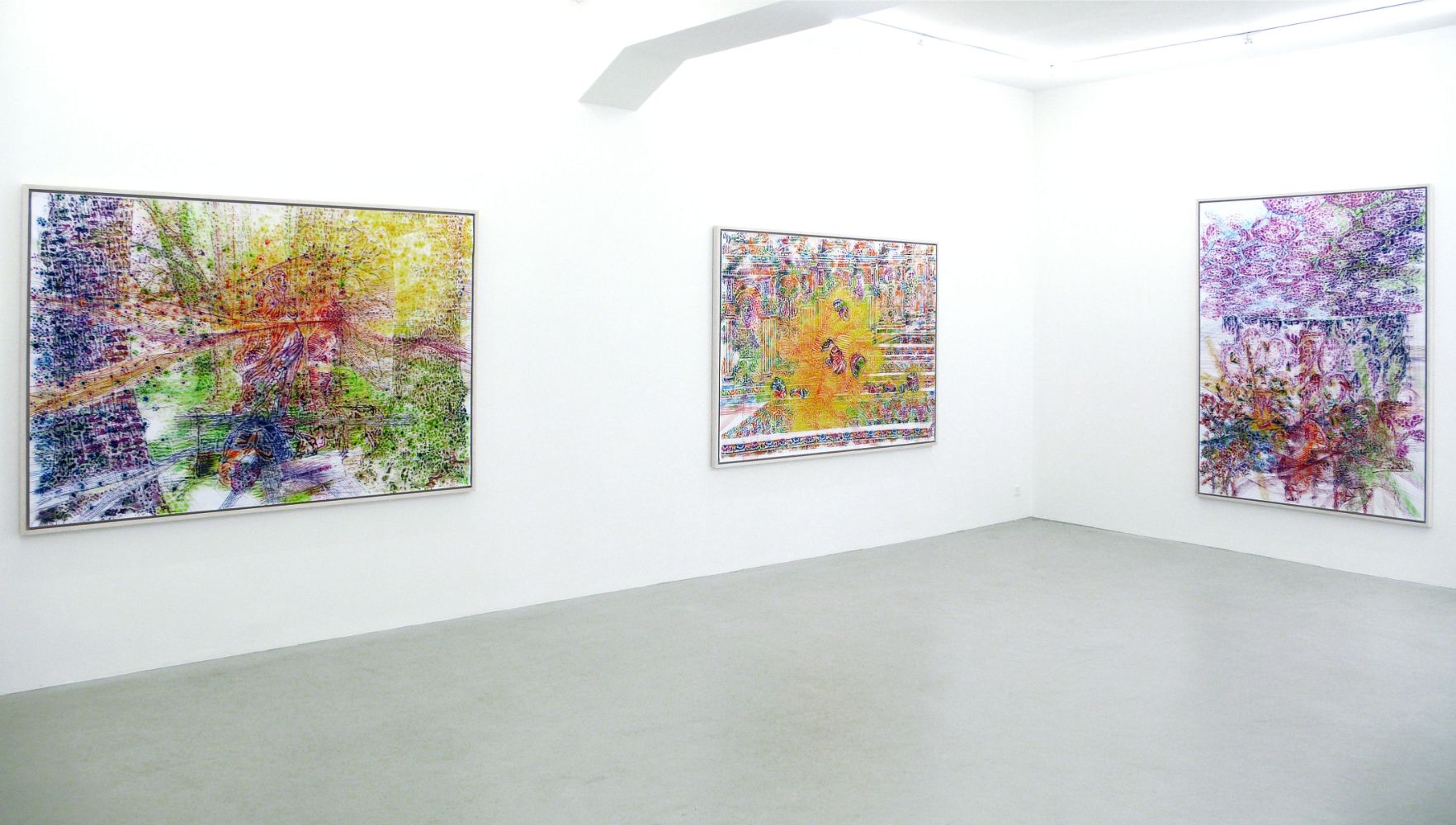 Spuren und Eindrücke |2009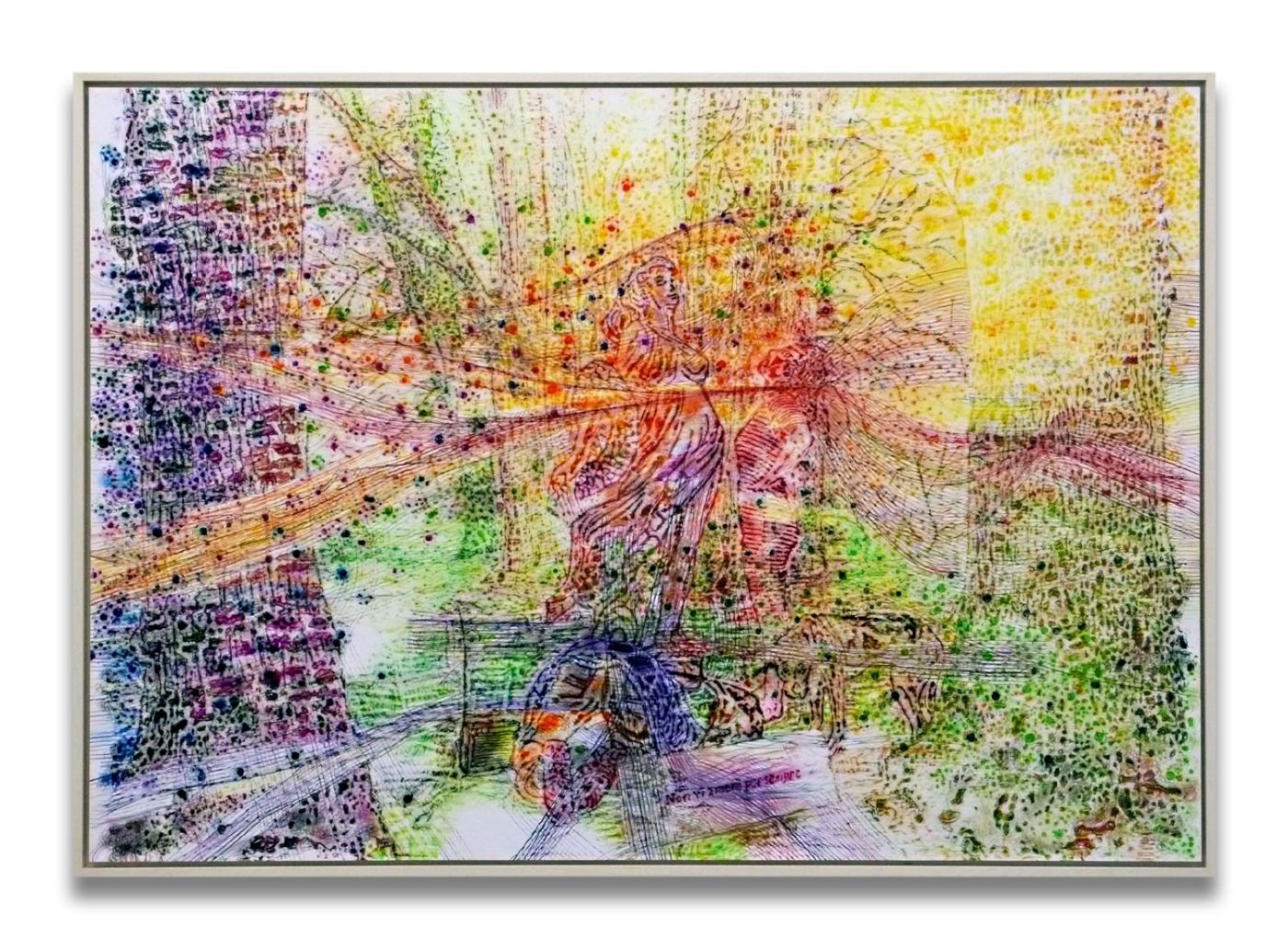 Sprechen |2009 |Frottage, Farbstift auf Papier |145.5 x 210 cm [H W D]